Korean Skincare: My Everything but the Kitchen Sink K Beauty Review
These Korean skincare products will add the hydration and exfoliation you need in your skincare routine. From moisturizers to serums, these products are sure to become your new faves.
Figuring out how to deal with and manage my acne has always been a struggle for me. Between January and March, my acne exploded. I had so many whiteheads, inflammation, cystic pimples and hyper-pigmentation. It was the absolute worst. It started to calm down once I started birth control again and went to a dermatologist. My skin was still so dry though. I don't know how I decided this but I've been interested in K Beauty for a while. Korean skincare is known for being innovative, intensely hydrating and just incredibly fun to use. So, I figured why not. One afternoon after Sunday lunch (June 21st to be exact), I went onto Althea's website and impulse bought six products.
My Skin Type
Combination skin
Grade 3 to 4 acne
Skin concerns: hyper-pigmentation, cystic and hormonal acne, dry skin, inflammation
Korean Skincare Results: 2 Weeks In to Now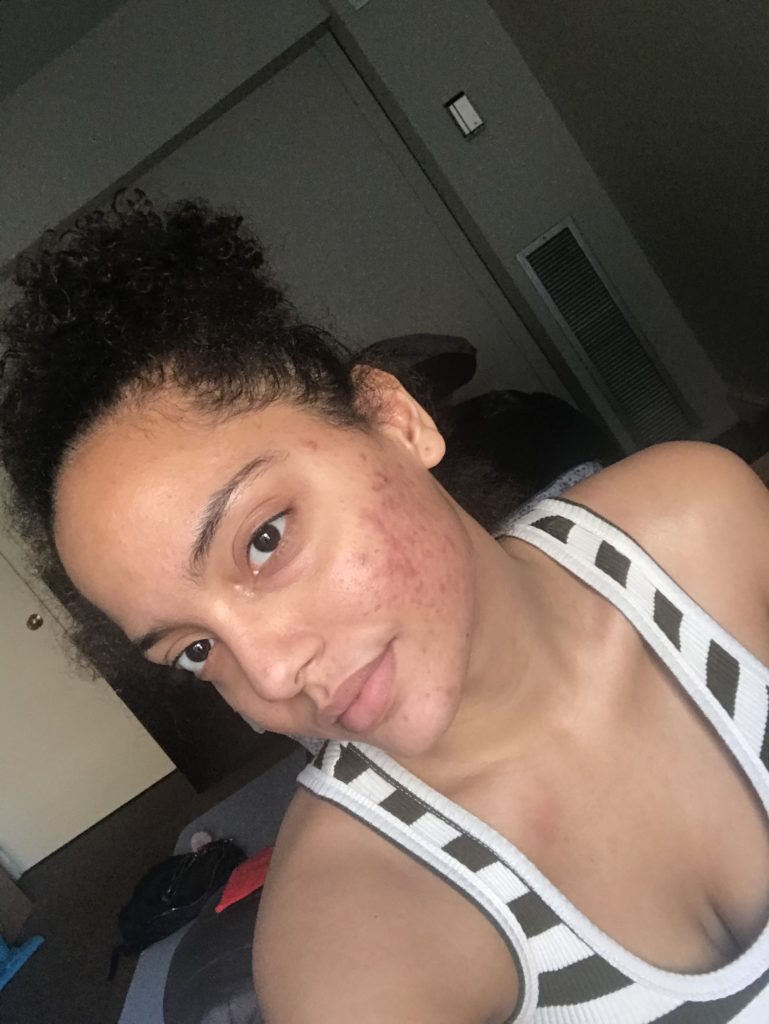 My Overall First Impression on Korean Skincare
I loved it! My skin has never been this hydrated. From the first night, my skin already felt softer and more moisturized. The next day, when I woke up, I realize my skin felt just as hydrated as it did when I went to bed. That was a big plus because only a couple of moisturizers have ever done that for me. I usually wake up with a dry face.
It's been over two months and these products are fully integrated in my routine. I don't think I'm going to stop using them any time soon. My inflammation and redness calmed down a bit too because these products were really hydrating. I also had less breakouts.
The products in general were really nice to use. The packaging was also so cute.
My Korean Skincare Day Time Routine
For context, I pat each product into my face, neck, and chest. I try not to rub anything in.
Pro tip: Bring your skincare routine down to your neck and chest. That skin is also very thin/sensitive and requires moisture and hydration.
My Korean Skincare Nighttime Routine
Benton Aloe BHA Skin Toner
Rating: 10/10
I love love love this toner. It's so nice. Even though it has BHAs in it for exfoliation, it's a very small amount so you can use it daily. I bought it because I read that it was very hydrating and moisturizing and I have to agree. I pat it on my skin and adds so much moisture. The product also has a watery consistency and it's not sticky. I definitely would buy this again. It makes such a difference for me personally.
Benton Aloe Propolis Soothing Gel
Rating: 9/10
I use this product as a summer moisturizer. I'm not sure how it would hold up in the winter since that season is very drying. However, this summer, I was able to use this alone as my daytime moisturizer and it calmed down my redness and inflammation. It has a gel consistency but it applies in a more watery consistency when you pat it on your face. I can put it on at the beginning of the day and my skin is still soft over 12 hours later. Iconic.
Innisfree Green Tea Seed Serum
Rating: 10/10
I am definitely rebuying this as soon as I can and I'm getting two just in case. As a serum, it is incredibly hydrating. When I don't use this serum I see a difference in my skin's moisture. I love this product and it can last long. I'm halfway through it because I use two or three pumps twice a day (but I'm extra and I love it that much).
CosRx Advanced Snail 96 Mucin Power Essence
Rating: 10/10
People need to stop sleeping on snail mucin. It really is one of the underdogs of skincare. Anything with snail mucin extract adds so much hydration to your routine. I always use this product. It's really cheap ($19) and because you get so much product, it lasts incredibly long. I definitely will keep this in my routine but it lasts so long I anticipate I won't have to buy it again until around November/December. I've been using this product since March and It's only now almost halfway through.
Peach & Lily Glass Skin Refining Serum
Rating: 10/10
This tiny product packs a punch. It promises to deliver everything you need for "picture perfect skin." It makes a huge difference in my routine BUT it is $39 a pop so I won't buy it again until there's a sale. However, if you're looking for something to work on the appearance of pores, inflammation, redness, and hydration, it helps with all of this and more.
Perfect Moisture Cream
Rating: 10/10
I love this moisturizer. The only thing is it's price. It retails for $50.50 but I got it on sale for $14. It recently was still listed at $14 so I'm not sure how long it would last. However, when I wake up after using this moisturizer the night before my skin is so soft the next morning. I love it. I would buy it again (but not at $50).
Some by Mi AHA BHA PHA 30 Days Miracle Toner and Serum
Rating: 7/10
I like the toner more than the serum. They both have tea tree oil which is a plus because you shouldn't use tea tree oil by itself on your skin. (And no, even if it is "diluted with water" you still shouldn't use pure tea tree oil).
With the toner, it's not drying at all. I used it for slight exfoliation and I think it's decent. I wouldn't necessarily buy it again but also, since I use it twice a week, it's barely 90% finished. The serum I use a little more often but honestly, I'm not sure if it's really doing all that much. These products aren't bad. In fact, they're cult favorites and have rave reviews for improving skin texture and reducing the number of breakouts. I'm just not sure how impactful they were to my skin.
CosRx Pimple Patches
Rating: 10/10 (if you have whiteheads), 0/10 if you have cystic acne
I used these once on a couple of whiteheads and they definitely helped. It sucks the white pus out of the pimples so by the time you take them off, they're smaller. It helps shrink whiteheads overnight for sure. However, since I have cystic acne which is acne below the skin, the pimple patches wouldn't work. For that, I use Azelaic acid!
Final Takeaways: Try Korean skincare products, you won't regret it!
Korean skincare is definitely on another level. The formulations, ingredients and uses are so versatile and dope. Not only was it objectively fun for me to apply these products, integrating them into my skincare routine produced wonderful results.
While my prescribed acne treatments from my dermatologists have obviously helped, these products assisted with more non-medical concerns. Using them in tandem with my acne treatments has been amazing and I think by the end of the year my skin will improve even more. I 100% recommend these products and trying any Korean skincare products that peak your interest. I think you'll be pleasantly surprised.